Hi everyone, welcome back to my home and garden blog.  I've just been looking online for some new dinner plates, as we're hosting our annual Christmas dinner party for the first time in our new house today.  They just arrived and I love them.  I bought some vintage mix and match plates for a bargain price online from a second hand goods store here: www.cheap.forsale/dinner-plates.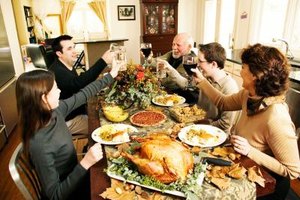 Before me and the missus moved into our new house we lived in a tiny little flat in London.  We had a small kitchen, barely big enough for us both to fit in to cook a meal, and an open planned living/dining room area, that we used primarily as a living room.  However one of our favourite things to do is to have friends around our house, and in particular to whip up a fantastic menu and have a little dinner party.  Now that we've moved into our much bigger house it's so much easier, but if I'm honest I do miss the fun and collaboration between us and our friends as we put on a special dinner.
5 ways to make a fabulous dinner party even if you don't have much space.
Throw that dinner party!





So many people will see that there space is small, or unfinished, or not quite as well decorated as they'd like and simply stop right there and not throw the dinner party. No matter where you live, how big your apartment is, or how unfurnished it is you can always plan a lovely dinner party in your home and work out the details around it.  You might only be able to hold a dinner party for 3 or 4 people, or somehow manage to squeeze in 10 people or more, either way it doesn't matter.  Throw that dinner party!

Move things around.





You might have a designated kitchen dining area that works great for day to day life, but having the dining table in the kitchen during a dinner party can be a nightmare.  Look at the space you have in your apartment and don't be afraid to move thing around to create more space, and more areas.  Move furniture into the other rooms in the house, your sofa might be able to fit right next to your bed.  Maybe you can't get into bed now, but it's just for now, and you'll be spending no time at all in there.  Bring some

orchids

in and place them around the room.




Camera, Lights, Action.



Mood lighting is a great way to set up the atmosphere without having to change to much around.  Overhead lights might be great with their energy efficient fluorescent light bulbs, and their bright white lights but they are terrible for setting the mood and creating atmospheric lighting.  A great way to create this atmospheric lighting is to bring in all of your lamps with warm yellow light bulbs.  Combine these with fairy lights around mirrors, strung over the table, it's christmas so who cares!  Place some candles and tea lights around the room and on the table and you've got yourself a great atmosphere.  You can buy some cheap candlesticks online at http://www.for-sale.co.uk/dinner-plates. 



Check out

Elle Decor

for more details on lighting ideas.





The other great thing about using mood lighting is that not only is the warmer lighting more cosy and inviting for your guests, and everyone's skin looks hella better underneath it, but it also helps to hide any little imperfections and blemishes around the apartment.  You might have a couple of stains on the floor and the curtains could probably do with a wash but no-one will ever know the difference.




Get everyone to join in.





The main reason why I miss our old dinner parties is that they are a great way to get everyone involved.  Get a few people who are coming over to the party to spend the day with you getting everything set up.  If you're feeling fancy you can get friends to help you design a wall menu so that everyone can see what they're eating.  More hands on deck means more people to help so that things get done quicker, leading to more time to relax and have fun.  

Have fun, don't stress





My final piece of advice for anyone setting up their own dinner party, regardless of whether it's in a small apartment or a mansion is to make sure that everyone has a good time.   Don't stress the small things as anything can happen.  Friends are friends for a reason, and they will still be your friends is things go a little wrong.  If the timings for the meals are a little late, or the meat comes out a little overcooked, or if you run out of drinks at the end of the night.  It's okay! The point of a dinner party is that it's a great way to spend time with friends and loved ones and have fun!
Did anyone go to the Christmas Show I spoke about last week? I did and it was amazing, bought so many Christmas gifts for others as well as myself! Whoops.
Also remember to check out www.cheap.forsale
Thanks,
Jon.